About Me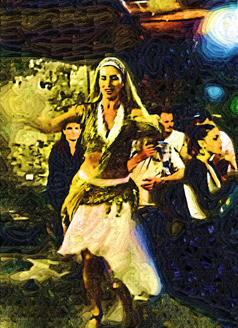 Photo & Art by Maurizio Falcone, Busanna Vechia, Italy
As a little girl I was fascinated by the Hawaiian dancers, and belly dancers I saw on TV or in movies. I used to try to copy them at every opportunity. One time I turned up at a fancy dress party dressed as a hula girl, with a grass skirt made out of newspaper! From those early beginning I began belly dancing in earnest at the age of 18, after a friend introduced me to Egyptian music. I've been belly dancing professionally now for over 20 years, and am also a fully qualified aerobics teacher and gym instructor.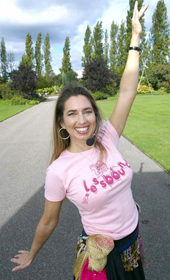 My professional belly dancing debut was at an Egyptian engagement party. My mother came with me as my chaperone. I was 18. I was asked if I would like a fee or to dance for tips. The mother of the bride-to-be advised me that it would be far more lucrative to dance for tips. I was as nervous as hell and thought, 'well at least if they don't like me, there will be no mistaking it'. But my mum reassured me. I had worked out a routine to some imported Egyptian music I had found, only to be told on the night that I was to dance with a live band and what would I like them to play?!? My mum quickly said – 'let them decide….whatever they think would suit my daughter'. I was forced to improvise… and I loved it. So did the band when I shared the tips. I was invited back the following week to dance for the groom's family and soon became a regular with the band, learning my craft from the musicians. Although the first band were Egyptian, I went on over the years, to work with a Lebanese and then a Turkish band. I picked up different techniques, steps and styles from all the musicians I worked with and developed my own style. I would say it is more Turkish than anything else.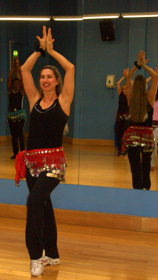 Belly dancing became less central to my life once I started a grown up job in the City. I still kept myself fit..... well fit-ish ...with belly dancing, aerobics classes and going to the gym. Then, in April 2003, I was diagnosed with Crohn's Disease (a condition resulting in severe digestive problems along with considerable pain, fatigue and the need to use the toilet frequently. It is aggravated largely by stress). The National Association for Crohns & Colitis or NACC is website is http://www.crohnsandcolitis.org.uk/content/home.asp. I had been living a fairly stressful life, working in the City as an IT trainer, and before that in the rag trade (running a clothing business in Camden). After winding up in casualty, I made a decision to de-stress by spending more time on the things that make me feel healthier in body and mind. I remembered how healthy, feminine and alive I felt when I was dancing more. At that moment, I decided to make dance a bigger part of my life again. Times had changed. I was older and there were less places to perform than back in the day. I didn't want to teach bellydance in the traditional sense. Then I had an idea. BellyDance Aerobics
I am not an exercise fanatic, just a woman who dislikes jogging or running and gets bored with exercising on a bike unless I'm going somewhere with nice scenery! Though I really enjoyed my other work, I missed gallivanting around, performing. My favourite ways to stay fit were belly dance and aerobics and it seemed natural to me to put them together. I decided the best way to do this was to train and qualify as an aerobics instructor. I also wanted to understand more about resistance training so I also qualified as a gym instructor. Then a couple of years later, I obtained a scholarship to become a YMCA Level 3 Personal Trainer through REPS (The Register of Exercise Professionals). As a result of all this study, I was able to create a unique exercise program that allows women to aerobically exercise for a full 30 minutes without getting too tired - or bored! In addition, the other components of the program are designed for utmost toning effect. I wanted to share the kind of workouts that I have done myself for years and do it with maximum results and safety.
Professional Experience
Fitness
Qualifications - YMCA NVQ Level 3 Personal Trainer, YMCA NVQ Level 2 Exercise to Music and Gym Instruction, I have over 6 years experience as a personal trainer and fitness instructor. Gyms I have worked at include as a fitness instructor Holmes's Place, Mayfair W1, Gymbox in Holborn and Aqua Terra Islington.
Dance
Over the years I have performed at The Casino San Remo, Italy, Jimmy's in Monaco, Puerto Banus Spain, Isabella's in Sardinia, El Divinos & The Ku Club (Privilege) Ibiza, "The Leading Hotels of the World" Delhi & Calcutta as well as numerous venues around Europe. London venues include Clarridges, The Café Royal, Mo Mo's, The Astoria, Bagleys, Mortons, Annabels, Gallipoli (The City), The Ritz and The Grosvenor.
TV and Film works include
Film - Salome's Last Dance (Ken Russell), Taffin, Blood Tracks, Secrets of Love (Serie Rose), Split Second

Music videos - Nick Cave and the Bad Seeds, Heaven 17 (The Tube), Imagination

Adverts - Hitachi TV's, Falmers Clothing. Hoffmeister Beer (Follow the Bear), Ritz crackers

TV - The Two Ronnies, Three of a Kind, Perfect Scoundrels, Alas Smith and Jones, Hale and Pace, Kilroy, Richard and Judy, Beadles About

Corporate clients - Network Solutions (Beach Party – Tenerife). You've Been Tangoed, Absolute Vodka, MTV and singer Sade, Queen Knebworth Rock Festival Party, The Rolling Stones Voodoo Lounge Tour Party,

Fashion Show Choreography for Warehouse, Libido, and Finesse
<![if !vml]>

<![endif]>For further info telephone 07961 382711 or email info@bellydanceaerobics.com
Website Copyright ©2010 Tina Shaw. All rights reserved.
It is not permitted to reproduce or distribute any part of this website or its contents without obtaining prior permission.
Failure to do this will result in prosecution